The last last two days here in the north of Italy have been so hot, it was funny taking photos of my Baby Poncho under the sun! But if you love sewing, you don't mind the season, do you?
I designed The Baby Poncho for fresh days and cool evenings when you want to quickly slip something over Baby without all the sleeve hassle!
The Baby Poncho in fact has armholes to make it super easy to slip on and to stop the poncho from moving out of place when it's on.
The Baby Poncho was made for Fort Worth Studio Fabric Blog and you can find the tutorial here, including a free template. The talented Lindsey invited me to write this tutorial for FWSF Blog's Oh Sew Baby! series. Don't miss the other posts on the series, there are some beautiful ideas for presents for babies. You could also win a $50 gift certificate for the FWFS shop just by linking up a post about something you made for a baby here.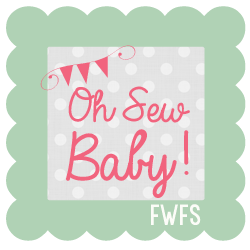 Join in our giveaway here (until the 19th of June 2014), you could win this fab magazine: