There is so much going on in Blog Land you can't miss. First of all there's the Oh Sew Baby! series over at Fort Worth Fabric Studio. This is especially exciting for me because the super talented Lindsey has invited me to guest post a Baby Sewing Tutorial for this special series. And I'm also looking forward to the

Linky for all Baby Sewing Tutorials: starting on

May 27 the

Fort Worth Fabric Studio blog is

opening a linky party for anyone who wants to link up any old or new baby related tutorial. Linking up you have the chance of winning a $50 gift certificate for their shop! I can't wait to see all the tutorials, I love seeing new ideas/excuses for sewing for babies!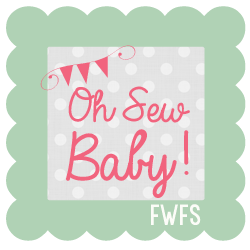 Everybody in Quilting Blog Land knows about the Blogger's Quilt Festival! Now the voting is open and it's time to chose my favourite entries!
I've entered the Mini Quilts category and here's the post with the story of my Triangle Fabric Mountains. You can vote here for the Mini Quilts Category!
Heidi at Fabric Mutt is starting a new Quilt Along: The Graph Paper Quilt Along and it's all about using squares. I really like the idea that you can join and make a quilt or small projects. This is going to be really fun! The Quilt along starts the 29th of May.
Starting on the 2nd of June is the Perfect Picnic Blog Hop. There will be loads of inspiration for picnic quilts and for a yummy Picnic Menu too, all included! One picnic the weather isn't going to stop!
The full picnic plan is here!