Kerry at PennyDog Patchwork has always got something up her sleeve. If you were following the Quilter's edition of Sew-vivor 2014 then you can't have missed her singing fish: Billy Bass Mini Quilt, with sound box! Brilliant!
When she asked to write about your top 5 sewing goals for the new sewing year, she got me thinking. I looked back on the past year and decided it's time to sew more for my family (and myself!). I have a load of WIPs and even more ideas for starting new projects. Five top goals? Here goes:
1. Catch up with my Bee Blocks
I am guilty! Yes, I admit it: I am totally off track with my bee blocks. 2015 will bee (sorry!) the year I catch up and keep up with my block making. It is so fun to try new blocks even though often it is also intimidating to sew for others (who aren't family!).
2. (Try) Sewing clothes
I would love to start with a skirt because I have some lovely fabric by Rashida Coleman-Hale from her
Moonlit collection
I would love to sew it into a skirt for myself! I've seen this
pattern by Flamingo Toes
and thought: "Wow, only 15 minutes to make it!". Even if it takes me four times the time, that's only one hour! I can manage that, can't I?!
3. Sew some wonderful patterns
I have just bought two of Aneela Hoey's latest patterns before the VAT tornado hits and I can't wait to try them out. I'm especially intrigued by the Pull out Boxes. I have a thing for matchboxes, as you can see from my Matchboxes Pinterest board, and these boxes remind me so much of them.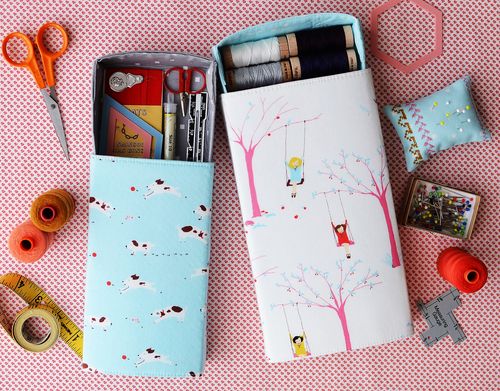 4. Invent and sew something fun
As William Morris put it: "Have nothing in your house that you do not know to be useful, or believe to be beautiful". Can I add fun too?
5. Sew twin quilts for my daughters
OK, this was in my list of "to do things" for 2014 and all the fabric is still in the bag I originally put it in, untouched. No excuses here. Ella and Lucy are waiting (more or less) patiently! (in the photo detail of Cardigan Girls panel for Timeless Treasures, to be sewn...).
I'm planning on finding time to finish a few WIP quilts too. I want it to be a quilty year!
Let your dreams take flight in 2015
Happy and peaceful New Year!